Our Youth Development Program
Our youth program at our Overtown and West Homestead site focuses on inspiring, educating, and empowering youth.  We operate in the after school hours Monday through Friday in the school year for academic support as well as one evening a week at each site.
Read on to learn about the multiple program elements in our holistic program to middle and high school youth.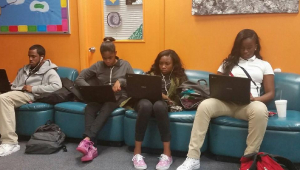 We support academic achievement with time every afternoon and access to technology. We also offer SAT/ACT tutoring, school supplies, incentives for grades, and support for school projects.
Each week we present fun, interactive activities Social Skills lessons to youth to create higher expectations, establish a pattern of positive attitudes, beliefs, and behaviors regarding themselves, others, and their community.
We offer students the option to join our weekly Bible Study.  As we welcome all youth we share how Christ's spirit will help us to be in the world but not of it.
Our evening programming begins one night a week at both sites begins with a full sit down dinner for all youth. Designed to re-create the family dinner hour meals shared over conversation encourage youth as they navigate life circumstances.
Field Trips, Reward Trips, Outings & Excursions
Creative Arts sessions give youth the opportunity to explore, create, and dream.
Informal time is built into programming with middle and high school students to allow for natural conversations. These present critical opportunities to mentor and encourage students on their path to success.
Summer internships at both sites provide our high school youth with the opportunity to grow as leaders. Students complete resume and cover letter writing sessions are then selected for interviews. Up to ten students per site are given paid summer internships where they receive 35 hours of job training in addition to on the job coaching. Every TML alumni on staff with us has served as a summer intern. We are thankful for the continued partnership with The Children's Trust and Ocean Reef Community Foundation for their support of this project.
Touching Miami with Love is in part funded by The Children's Trust. The Children's Trust is a dedicated source of revenue established by voter referendum to improve the lives of children and families in Miami-Dade County.