Be a Guest Chef
The statistics are clear; kids who take part in regular family dinners get better grades and stay away from cigarettes, alcohol, and drugs which is why doctors and educators are making the push to get families back to the table.  But what if your mom's shift is during the dinner hour or you just don't have enough to eat at home?
Touching Miami with Love (TML) creates a home away from home for youth in our evening programs and partnership through our Guest Chefs helps keep dinner first on the agenda.  Through the Guest Chef project, restaurants, corporations, and civic groups help put food on the plates of youth as they help to provide healthy evening dinners.
The Guest Chef project supports our Today's Leaders High School Youth Development Program enriching our programming by giving youth the simple gift of sitting down together over a hot, nutritious meal to begin each evening at Touching Miami with Love.
DETAILS:
Up to 40 total people total for meals–We also encourage staff and volunteers to eat with the youth.  You're invited too!
Dinner begins at 6:30pm–Kitchen is available starting 5:00pm
Mondays, Wednesdays, and Thursdays throughout the year.
Meals MUST be pre-prepared, there is NO cooking at sites.
TML staff are available for pre-prepared meal pick-up if delivery is not available.
TML will provide all cooking tools, serving supplies, plates, cups, silverware, drinks, and napkins if needed.
Our Youth LOVE our Guest Chefs!
Click HERE to watch our youth's thank you video!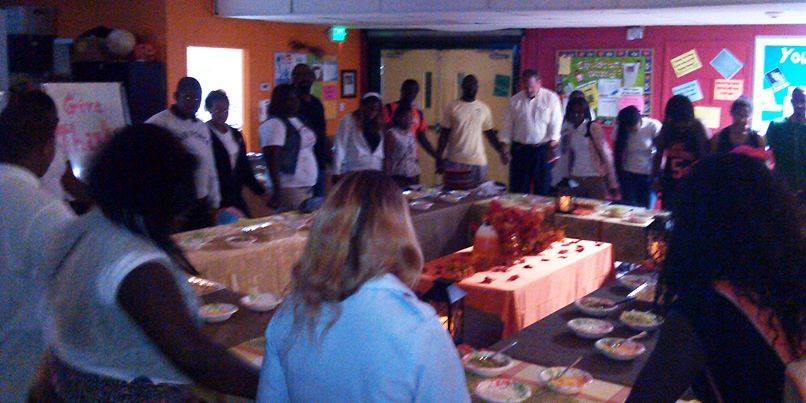 Join Us
You can sign up as an individual, a family, or group to serve just a meal for our youth just one time or on a regular basis. Please contact us using the form below.
Our Locations
Overtown Site: 711 NW 6th Avenue, Miami, FL 33136
West Homestead Site: 1350 SW 4th Street, Homestead, FL 33101
Write Us
For all mailing to either site please use: P.O. Box 01-3279, Miami, FL 33101