In the past 25 years, TML has walked alongside so many youth as they progressed through our program from elementary school to high school.  We are so pleased to share that 97% of our participants have graduated from high school in the last 12 years, and 85% go onto college.  We are always proud of our graduates, but this school year, in particular, our seniors have proven resilient and have overcome so many challenges that could have deterred them from graduating. We are delighted to be a significant part of their journey to success.
We are so excited to present our 2021 high school graduates and hear directly from them about their experiences at TML.
Harri-Anna Derolus, Valedictorian – Howard University
TML impacted my life in ways I could have never imagined. Even things like the weekly cookouts during summer camp and the volunteers who used to come down changed me because it made me want to serve my community. At TML, I loved spending time with our friends from other schools, and I also liked how the environment helped create positivity in a community that is always known to be negative. Currently, in my journey toward college, TML has been extremely helpful. Over these past few years, I have received their support, even just in the form of a phone call. As I move forward in life, I know I can continue to look forward to my TML support team calls. Even the simple things like encouragement and people like Ms. Trina and Mr. Jason asking if they can help in any way have made this journey easier.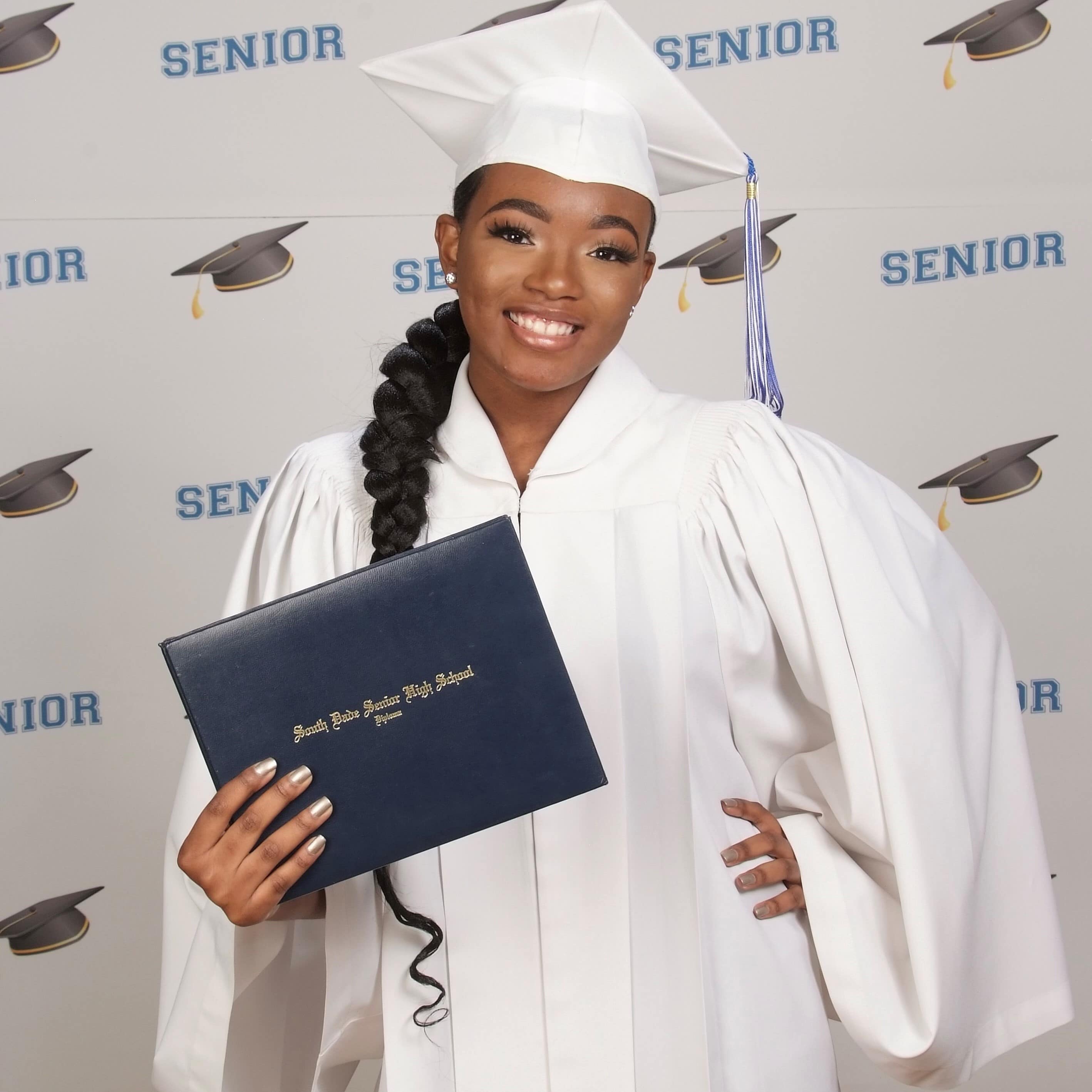 Auilalei Granger – Valencia College
TML has impacted my life because they really supported me academically. I was in a comfortable space to get my school work done. I was also given many chances to volunteer. What I love the most about TML is the staff; they are always very interactive. A particular memory that stands out for me at TML is when I had a [mock] interview to get a job as a summer intern. It felt very real and really prepared me for an actual interview.TML has helped me in my journey towards college with The college tours with Ms. Jeanette really helped me see what college was like. TML also helped me create and develop my resume.
Zykeria Rolle, Cum Laude Grad – University of Central Florida
TML has given me resources and opportunities to explore the world and learn more about how to help my community and better myself.  It's given me many friendships, family, and good times. What I love the most about TML are the people and relationships.  How their different ideas, personalities, and experiences help us learn and grow and make us see that we can do so much in the world. A particular memory that stands out to me of my time at TML is the Kickball games during the summers during middle and high school.  The competition and laughter. TML has helped me in my journey towards college by providing so many networking opportunities to giving me access to internships, jobs, and different volunteer experiences to build my resume.  All the reading and literacy skills have really helped me grow.
Samaria Gibbs – Undecided
TML has impacted my life dramatically. Not only did I grow up within this program, but through TML, I formed friendships, mentorships, and a deeper understanding of what it means to be a part of a community. These grounds have driven me to alleviate my community and become a TML youth intern. From leading activities for youth to tutoring them, I support the children in Overtown. One morning, a parent approached me to personally thanked me for looking after her daughter on our field trip the previous day. My eyes tearing up, I was honored to know that I had positively impacted the little girl and her mother. TML has propelled my education. Whenever I needed help learning a subject, there was always someone at TML to teach me. Whenever I needed to print something, TML offered me their printer. Whenever I was stressing over an assignment, TML gave me a snack and the reassurance that I could do it.
Omya Smith – Kyser University
TML has impacted my life in many ways. Since my grandma signed me up, TML always felt like a second home to me; even when I didn't feel accepted in my own home, I always had TML as a second family! I learned many things at TML, and if it weren't for them, I wouldn't be who I am today.What I love the most about TML is that I always got treated like family and never an outsider! My best TML memory will always be the California trip we went on for a whole week to experience camping, and it was so fun! Everything about the trip was just fun and peaceful.TML has helped me excel in high school and has inspired me to go to college and major in something that will benefit me 100x more!
Kathyanna Jean Louis – Technical School for Business
TML helped me a lot in life! It showed me how to connect with God and become independent. I really love the staff; they were always very nice, very helpful, and caring.  I will never forget the youth program when we used to do activities, and anytime I need help with anything, there was always someone there to help me. I miss the bible studies, and I will never forget the field trips.TML helped me a lot through my journeys. I always got my homework done, and they provided me with the hours I needed to graduate high school!
Esmeralda Jarquin – Miami Dade College  
TML impacted my life by introducing me to people that have become part of my life daily. The thing I like about TML is JAM night! We do lessons regarding God's love for us during Jam night, and we build great friendships and bonds. A particular memory that stands out to me about TML is our seven-day-long backpacking trip to Colorado, led by Big City Mountaineers. On this trip, we explored the outdoors, and I learned about the wilderness. TML helped my journey towards college by introducing me to resources, such as career training, college readiness, and career field experiences.